 Fall 2023 After School Enrichment with Little Scholars
Exciting programs for students in K- 5th grade
Classes taught by Little Scholars
Program runs Wednesdays and Thursdays beginning September 27 and running until November 16.
Classes meet each day from 3pm- 4pm.
A large variety of topics for children to choose from.
WEDNESDAY Classes
Cheerleading (K-5)
Chess Wizards (K-5)
Globetrotters (3-5)
Karate (K-5)
Science Palooza (K-2)
WOW Lab (3-5)
Thursday Classes
Art-chitects (3-5)
Hip Hop (K-5)
Mudskipper Pottery (3-5)
Running Club (3-5)
Superhero Training Camp (K-2)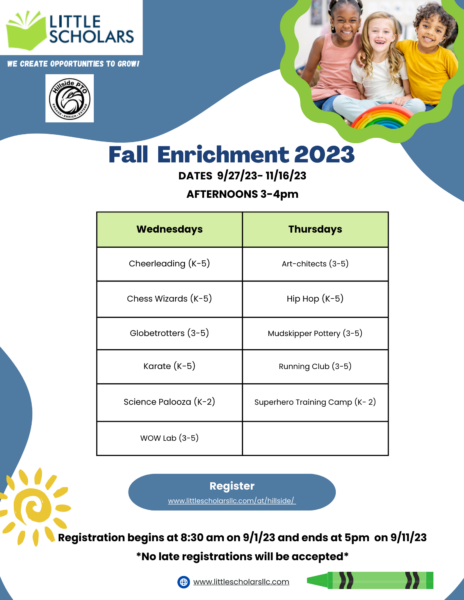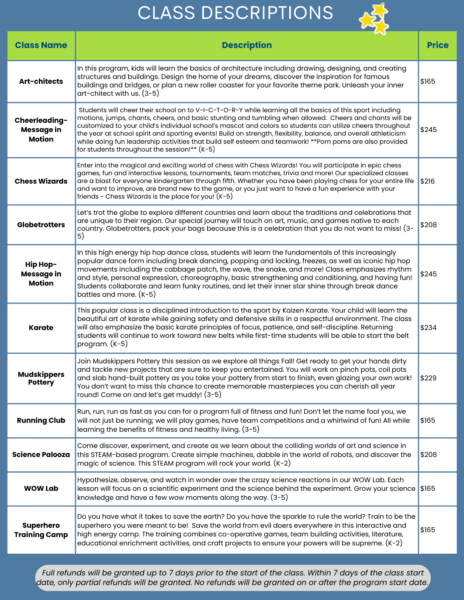 Registration for fall enrichment begins at 8:30 am, Friday, September 1 and closes at 5pm, Monday, September 11, 2023.
---
Questions? Please contact Nicole Brown, nbrown@littlescholarsllc.com