'Twas The First Day of School
08/22/2018
Twas the morning of the first day of school, when all through the halls not a creature was stirring not even the baseballs.
The chairs were snug by each desk with care, in hopes that the school buses soon would be there.
The children were nestled all snug in their beds, while visions of homework danced in their heads;
And the teachers were smiling and laughing with thoughts of sweet faces on their way, when the children had suddenly just arrived at school for the day.
When out near the flagpole there arose such a clatter,the children ran from the bus to see what was the matter.
Away to door they flew like a flash, tore open the door and threw up their hands with a gasp.
Moms and dads were high up above with a glittery glow this gave a luster of shimmer to the sidewalk below.
When what to the children's wondering ears should they hear, but a cheer so loud with a laugh oh so dear.
With a little old wisdom so tried and so true, the children knew in a moment it must be their parents in the view.
More happy than the children in summer, the parents all came down, they whistled and shouted, and said in a voice that could be heard around town:
Now Math Facts! Now Chapter Books! Now Recess and Lunch!
On, Library! On, flashcards! On, art and music!
To the classroom you go! To the desk you will sit too!
Now go to school! Go to school! Go to school 'cause it is cool!
This is dedicated to all the moms and dads out there who are as excited as I am to get their children back to school.  I craved the structure that the school year brings.  I have one child who is not quite as excited as I am about school starting next week.  If you have a child like mine, you can ease his back to school jitters with a few simple remedies:
Schedule a play date with a friend from his class (or in my case a time to 'hang out').
Notify the school/teacher/counselor about any family changes.
Discuss what he has missed about school, and why he's looking forward to returning to school (or not returning to school).
Be positive about the new school year and point out all the positives that you think he experience during the year.
It's important to not stress him about by talking about it too much (especially for the tweens and preteens).
Make time for some last-minute summer fun!
Here's to a great school year!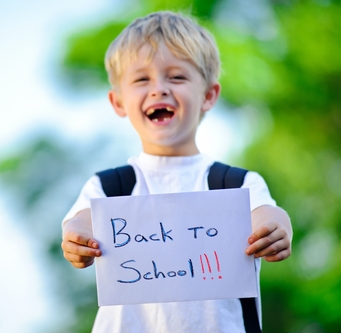 If you liked this post, please share it: