Hallsley Summer Camps
Join Little Scholars as we fill your day with games, crafts, activities and more!
Little Scholars will be offering 4 weeks of summer camps for children in PK- 4th grade. Each week will have a new theme and activities. Classes meet at the clubhouse and run Monday- Thursday from 9am-12pm.
We hope to see you there!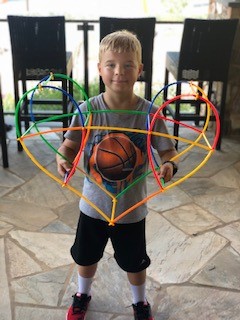 Week 1 (June 28- July 1): Fun and Games Week-Spend your mornings staying active while playing games with your friends!
Head, Shoulders, Knees and Toes (PK-K): Get your body moving with active songs, processed art, learning games, and creative play all designed to strengthen the core muscles and motor planning skills used for fine motor skills. Children will learn correct letter and number formation, pencil grip and scissor skills as we use our Head, Shoulders, Knees and Toes! We will explore fun hands-on techniques to help your child grip the pencil correctly and control fine motor muscles effectively through a variety of multisensory activities.
Backyard Games (Grades 1-4): Get outside and PLAY! Kickball, Dodgeball, Capture The Flag, SPUD, and many more thrilling outside adventures are coming to your school. Come out and have some good ol' backyard fun while building teamwork skills, gross motor skills and critical thinking skills.
---
Week 2 (July 12- 15): Fitness Week– A week of fun and fitness for your body and mind!
Jumpin' Beans (PK-K): Hop, Run and Skip to Jumping Beans! S-T-R-E-T-C-H your muscles and get your wiggles out all while learning about a new sport each week. Jumping Beans is great for developing gross motor and fine motor skills in a structured format that builds coordination, balance and confidence.
Mindful Fitness Club (Grades 1-4): Need a little mindful exercise in your life? Well…run, run, run as fast as you can for a class full of fitness, fun and mindfulness! We will play games, have spirited team challenges and participate in activities to create a mindful state. Participants will receive weekly mindfulness badges
---
Week 3: Creative Characters– Spend your mornings learning about new characters while making crafts and playing games!
Mateys and Mermaids (PK-K): Ahoy there! The ocean is calling your name! Dive in with us as we sneak a peek into the world below. We will discover the hidden treasures of the sea through enchanting hands on activities, music, arts, and social skills. Don't be shark bait and miss this adventure!
World of Wizards (Grades 1-4): Calling all wizard fans! This is like no other camp you have experienced. We will take a magical journey into the world of wizards. We will design wands, make magic potions, go on a magical creature hunt, play Quidditch, and participate in activities that will astound all Muggles.
---
Week 4 (August 16-19) : Outer Space -5, 4, 3, 2, 1 blast off to a galaxy far, far away to learn about Earth and the amazing solar system. Discover all things galactic such as comets, planets, shooting stars, rockets and more. Learn about flight, the adventures of space travel, and participate in a rocket launch!
Infinity and Beyond Camp (PK- K)
Out of this World (Grades 1-4)