Summer Camps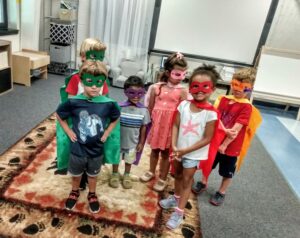 What do Lego towers, wizard wands, butterfly nets, Pop Rocks, pilot wings, princess capes and wiggly eyes have in common? They're all things you'll find in the busy hands of excited campers during Little Scholars Summer Camp! Our programs are perfect for preschool, elementary and middle school age children who have big imaginations and love to play. Get all the fun of summer camp with an educational twist in full or half day sessions.
View our Preschool Camp Catalog
View our Elementary Camp Catalog
Host a summer camp in your own backyard! Little Scholars will provide a teacher and supplies for your child and friends at your house this summer. A camp of your choosing runs Monday- Friday for 2 hours each day.  Click HERE to request more information.
See why Camp Directors love using Little Scholars:
We held several camps throughout the summer [and] Little Scholars conducted engaging and age appropriate activities for a variety of ages. The children were challenged and excited regarding their programs and hands on activities. The staff conducted themselves professionally on our campus and took pride in the camps they presented.
Laura W. Assistant Director Summer Programs
Read More
It was a pleasure hosting Little Scholars this summer. It was a thoroughly wonderful experience from start to finish. The teachers were consistently excellent in their work ethic, enthusiasm, and love for children, and Little Scholars' responsiveness to our specific needs and requests was greatly appreciated. The program for the 3-5 year olds was creative, fun, and well planned which contributed to the consistency of the program and created confidence among the children and parents.
Susan T. Director, Auxiliary Programs
Read More
We invited Little Scholars to join our team to provide nine weeks of academic exploration and instruction for our student campers. It was a great success. The Little Scholars staff was professional, effective, and engaging. The instruction they provided was conducive to our mission statement.
Larry J. Associate Director Summer Programs
Read More
First Presbyterian has a summer camp each year in July. Little Scholars has offered camps for children in grades 1-3. These camps have been very well attended. The curriculum again offers fun as a way to help children develop specific skills.
Becky M. Preschool Director
Read More
Little Scholars offered an excellent variety of camps and implemented their fun lesson plans with an enriching educational twist. All camps were masterfully planned and were implemented well with enthusiasm and positivity, while operating in a safe and nurturing environment. We look forward to continuing our relationship with Little Scholars.
Larry J. Associate Director Summer Programs
Read More
Program Directors: Learn more about bringing our camps to your school. Contact Us