The Country Club of Virginia Learning Lab FAQ
CCV has partnered with Little Scholars to create a fun and engaging Learning Lab for children. The Learning Lab is designed to provide CCV members a drop off academic support program for children in Kindergarten through 8th grade. The Learning Lab will provide the social interaction your child needs and the essential learning children can gain from working with a Little Scholars' teacher. Our teacher will help manage and assist the children with their virtual learning and independent work as well as facilitate screen-free activities in the Youth Lounge at CCV. An optional lunch from the Cool Springs Cafe is available.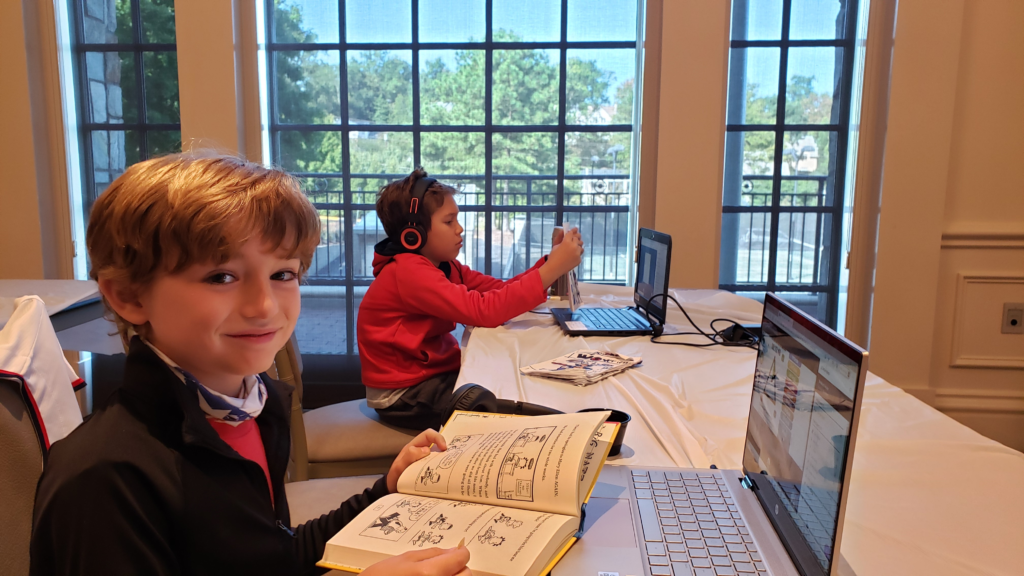 WHO IS LITTLE SCHOLARS?
By inspiring confidence with a consistent commitment to integrity and an innovative spirit for education, Little Scholars provides solutions to families for quality instruction with the social interactions your child needs and craves in a healthy environment. Little Scholars is uniquely positioned to provide quality tutoring, mentoring, and other specialty support services to meet each child's needs, enrich their lives and put a smile on everyone's face because they have been doing this since 2006! Because Little Scholars is an educational services firm at the core, they only hire teachers! To learn more about Little Scholars, click here.
HOW WILL THE LEARNING LAB HELP MY CHILD AND ME?
This program is for families who are looking for support outside of their home with the confidence their child is working with experienced teachers. Little Scholars will play an active role in managing your child's virtual schedule including check-ins with the classroom teacher if desired, work to help your child complete their assignments, review work for accuracy, provide academic tutoring if needed, and create fun enrichment activities for screen-free breaks. You will have the reassurance of knowing that this is taken care of by an experienced teacher. Is there anything better than a little peace of mind right now?!
WHY USE LITTLE SCHOLARS TEACHERS?
Since Little Scholars is an educational services firm, they only hire teachers! This gives parents peace of mind that their child's work will be done correctly. The teachers will cater to your child's learning style. Remediation will be done as they are learning and extension activities will be created to keep your child challenged and excited about learning. To learn more about their AMAZING teachers, click here.
WHAT ARE YOUR COVID 19 PRECAUTIONS?
Little Scholars and CCV are committed to providing a safe environment for our students and teachers.  We will adhere to policies and procedures in accordance with the CDC guidelines for schools.
To ensure social distancing, only 10 students will be permitted to attend the Learning Lab.
Teachers, staff, and students are required to wear a mask. Students may remove their masks once seated at their desks. Masks will not be provided by Little Scholars or CCV.
Parents will need to park and accompany their child to class each morning. Upon arrival, a brief health screen and check-in (including plans for lunch) will be completed. Parents will also need to pick up their child from the Youth Lounge to provide an opportunity to hear about the day.
Parents will be required to keep children with a fever and/or who are exhibiting any COVID-19 symptoms at home.
Teachers and staff will not be allowed to teach if they have a fever or displaying COVID-19 symptoms. We will provide hand sanitizer that can be used throughout the day for students, staff, and teachers.
We will encourage safe space seating at least six feet apart.
We will keep each child's belongings separated from others and in different areas.
We will avoid sharing toys, books, and other games or learning aids.
We will ensure that high-touch surfaces are routinely sanitized, and that contact is limited. Additionally, the room will be cleaned at the end of each day.
If an individual experiences symptoms, they will be immediately separated from all other students, staff member, and teachers and will be sent home. They will be asked to quarantine until they receive test results. All parents will be notified and asked to be aware of any changes in their children.
If a student, staff member, or teacher tests positive for COVID-19, parents will be immediately notified, and children will be sent home. If an individual tests positive, they will be required to quarantine for two weeks and receive two negative tests before returning to the program.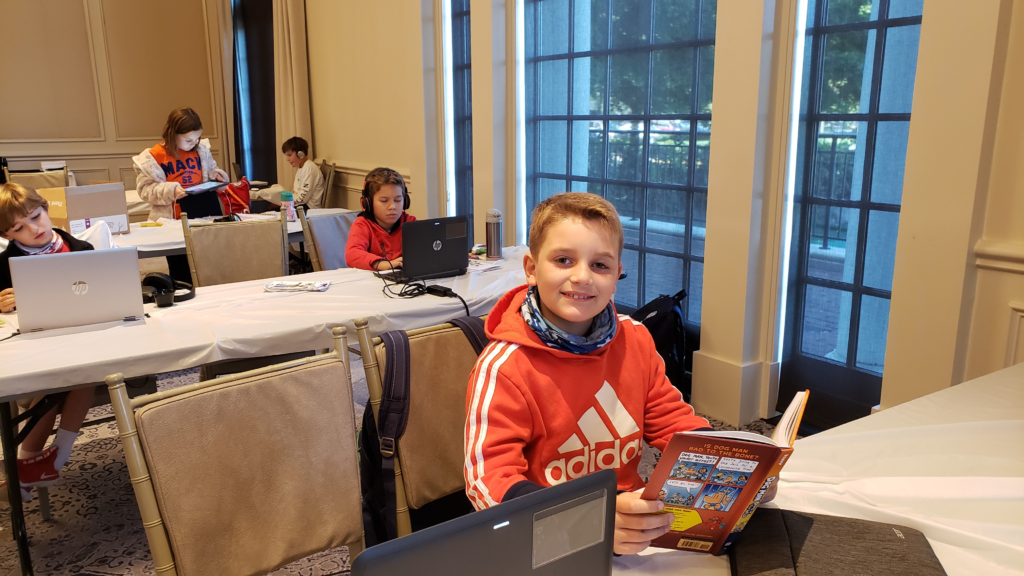 WHAT TYPE OF TECHNOLOGY DOES MY CHILD NEED?
Parents will be responsible for sending in any technology devices that will be needed for the sessions. Parents will provide access to the student information as it pertains to classwork, school log in information, etc. Parents will make sure their child's technology device is fully charged before the session and will send the power source. Little Scholars and CCV will not be responsible for any damage to technology devices.
WHAT ELSE WILL MY CHILD NEED FOR THE PROGRAM?
Your child will need a headphone/earbuds (plus a backup set), mask, backpack with any necessary work to complete their assignments, and information on how to access all needed virtual learning sites including codes on classroom links, how to contact the teacher or necessary technology person for support help.
WHAT IS THE COST OF THE PROGRAM?
The prices is $320 for 4 days, from 7:45am- 3:45pm.
CCV will charge your member account.
WHAT ARE THE FOOD AND MEAL OPTIONS?
Members may bring snacks and lunch from home (no peanuts, please) or choose to place an order from the Cool Springs Café menu. Staff will confirm all meal orders at drop-off and will take care of placing orders and having food delivered during the scheduled meal time for each student.
HOW DO I REGISTER?
To register, click here.
WHAT WILL CCV AND LITTLE SCHOLARS BE PROVIDING?
An awesome and experienced classroom teacher who is excited to work with your child! A safe environment for your child to learn, socialize, and have fun with friends. Miscellaneous items such as scissors, pencils, markers, dry erase boards, paper, stapler, tape, note cards, file folders, etc. Fun and engaging screen-free activities during breaks, lunch, and downtime. These activities will include outside playtime, manipulatives like Legos and puzzles, games, arts and crafts!
WHAT ARE THE BEHAVIORAL EXPECTATIONS OF MY CHILD?
Little Scholars and CCV expect students to observe the rules of the club and teachers, respect his or her fellow students, teachers, and staff. If the actions of a student compromises his or her own safety, or the safety of others, including, without limitation, students or teachers, the parents will be contacted. For on-going and/or serious offenses, Little Scholars may remove the student from the program and a refund will not be issued for a removed student.